I did a shoot recently that got a lot of people talking and still more asking questions. The level of detail in this one was high, and it seems a lot of you wanted to learn more about my process. So I'm going to talk a little bit about the making of my most recent photo shoot "From Russia with Love" starring Kristie Taylor.
The idea began when I decided she looked Russian. I was drunk at the time, but that is besides the point. From there I convinced her that she needed to become a sexy spy, and as one last caveat we were going to shoot it as if it took place during the Cold War Era. Step one was finding me an old hammer and sickle flag which wasn't too difficult. From there it was simply a matter of finding the space. I was going to shoot the whole thing in a broken down industrial setting. But the night before the shoot I changed my mind, and instead decided that we were going to shoot it in "The General's Office". (Not to be confused with shooting something into the General's Orifice which is probably another good shoot idea). So I found an office: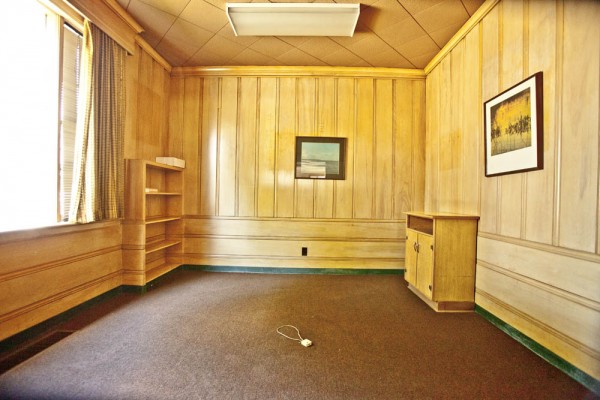 And that is where the conversion process began. Time to bring in some props to give it a taste of authenticity. In total there were about 30 different set pieces some of which are pictured below for your viewing pleasure but also including: A piss yellow Toshiba television, a decommissioned hand gun, a painting of Joseph Stalin, Soviet Medals of Militaristic achievement, a vintage flag of the Soviet Union/Asia (with added military check points), an actual bomb shell, an old shipping trunk, the General's hat, tons of books, a desk fan, a Zorki-4 camera made in the USSR in the 70's, etc. etc. etc. Here are some shots of some of the props:
So with careful placement and a little bit of smarts, all those elements were combined to build the final set: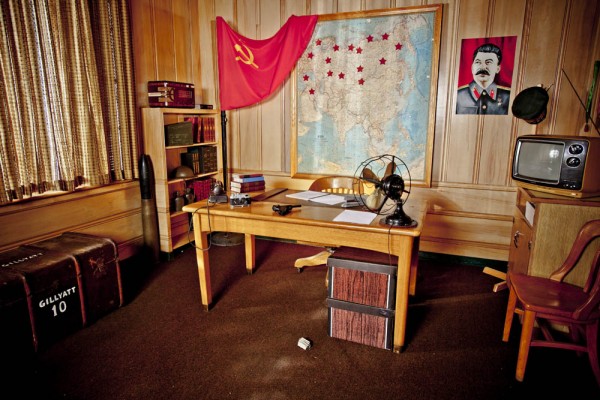 And once Kristie stepped into character we were ready to create something special! Thanks of course to Kristie Taylor for being a fantastic model, Krystal Downer Victoria for providing some stellar makeup and my home boy Thomas for being the best and most curious assistant I've ever used. I look forward to working with all of those folks again!