I received a strange and harshly worded email last week from a woman who was concerned about the evil I was putting into the world via my Instagram account every Sunday. For those of you that follow me on there, you know that for the last couple of months, every Sunday my Instagram feed is taken over by my followers, who send in sexy pictures of themselves, or of their friends that they've taken in either a professional or not so professional atmosphere. I want to make one thing perfectly clear: this wasn't really my idea. Or at least, not entirely.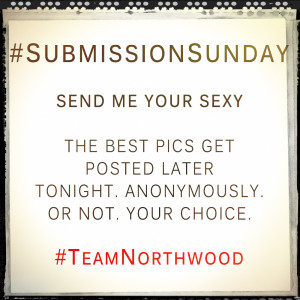 As my account on Instagram has continued to grow, I've developed a legion of fans that not only love what I do (thank you thank you) but seemingly want to get in on it. People started sending me photos of themselves to seek my approval, and more than anything, I approved of the form of expression. As someone who is a huge voyeur himself (you clearly see that theme throughout all of my work) I definitely understand the need to see, and be seen. It is a powerful human emotion. And now what has happened, is that every Sunday my Instagram account has become a platform for others to get their voyeuristic thrills.
I don't see anything wrong with this. Especially the sheer number of people who prefer to remain anonymous. And the naughtier ones who don't.
In an idealized society, none of us would feel the need to seek approval from others, but this is an unrealistic expectation given the world we live in. My entire life is geared around seeking the approval of others. Just like your dog when he does tricks. Just like your grandpa when he tells the same lame jokes. And while some my see #submissionsunday as a cheap ploy to use our bodies for attention, I look at it as a modern day avenue to explore our sexuality. And I for one am happy to provide the platform alongside my award winning photography work. I want everything I do to be inclusive. I want people to understand that as fans, admirers, peers and friends, all of you make up the whole of me.
So to all of you that have submitted to me on Sunday's (and those of you from far-flung locales the world over who get it to me by Saturday) I want to again say thank you. We are doing something harmless, naughty and fun, and there is no shame in this game. #submissionsunday
Richard